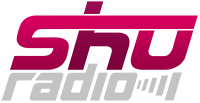 SHUradio is a new online student radio station at Sheffield Hallam University and is preparing to broadcast LIVE over the internet, in our own studio located in the HUBS, starting in September 2013.
SHUradio will allow students to get involved in a popular type of media and broadcast their own shows. We aim to become a larger part of the university and local community, and now offer students the opportunity to become a part of something new. Regardless of degree or skill level we want you! The actual work experience we will provide will help to build your CV, make a huge set of new friends and an avenue in which to channel your creativeness.
Do you fancy yourself as the next Annie Mac, Chris Moyles, Sara Cox, John Peel, Nicky Campbell or perhaps SHU's own Philo Holland? Whether you want to write for radio, present radio, produce radio or just listen, we have the role for you! On the brink of putting Hallam on the student radio map along with 70 other student radios in the country SHU Radio wants you Sheffield Hallam students to join our amazing team and contribute in whatever you like.
If you want to host a show by yourself or with friends, or you'd rather be involved in more of the behind the scenes stuff, SHUradio is the place for you! Listed below are just a few of the roles we need to fill in order to build a great team:
- Presenters
- Technical support
- Advertising team
- Feature writers
- Street/ Voxbox team
- Sports coverage team
SHUradio previously known as SHUsound has been producing podcasts for the last 2 years with the aim of eventually becoming a live radio station. SHUradio has now received funding and support from the students union to allow for a studio to be made and a live radio station be created.
If this sounds like something you want to get involved in, then drop us a line!
Email: [email protected]
Twitter: @SHUradio
Facebook: www.facebook.com/shuradio1
Website: www.shuradio.co.uk