Words: Anna Flockett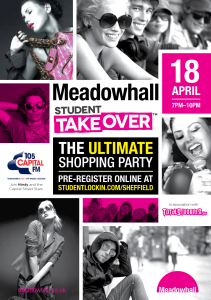 It's that time of year again, when your loan comes through and Total Students Ltd returns to Sheffield's Meadowhall shopping centre, bringing with them the successful Student Lock-In.
This unique, alternative night offers savings for students as well as having a dramatic effect on the stores and communities.
Along with exclusive student discounts, student-friendly promotion is a key part as many brands and businesses throughout the centre offer giveaways, goodie bags and entertainment.
With activities such as these, the event is guaranteed to have a fun festival-like atmosphere unlike many of you have ever attended before.
Since 2011 the company have had many successful, regular events, and are hoping to continue this in 2013.
A huge number of 6,000 students attended at the spring event last year and then a further 3 times that in the autumn event with 18,000 students queueing crazily for all the discounts and offers that only run for one-night.
With tens of thousands of pounds coming into the economy at each event, the vast amount of revenue impacts on the businesses especially those with chains across the country and the event tour.
With almost 9% of the entire undergraduate population attending these events, don't miss out on up to 40% off your favourite brands – including: Urban Outfitters, Ted Baker, Levi's, Topman, Miss Selfridge and many more.
Make sure you hit Meadowhall shopping centre, this Thursday 18th April from 7:00pm until 10:00pm.
To attend register now for free online at studentlockin.com where further information including a list of all shops with discounts can be found.